Frith Gift Cards
The perfect present, delivered instantly
Frith Gift Cards are flexible presents for any occasion, and perfect for when you aren't sure which Frith gift is just the right choice.
Frith Gift Cards are available in £20, £30, £40, £50, £60, £100, £150, include a personal message and a choice of designs.
You can choose to have your Frith Gift Card emailed instantly to your inbox, emailed to the recipient, or posted.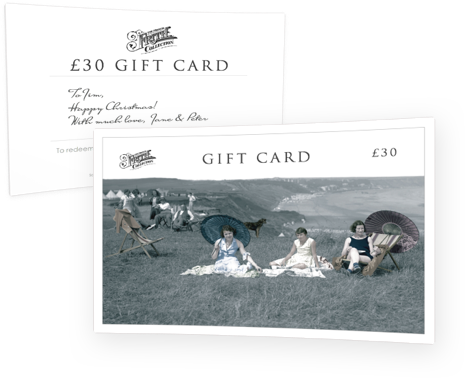 Choose a Gift Card design
Choose the Gift Card design that you like. You will then be able to choose the amount you want to give, add a personal message, and tell us where and when to send the Gift Card.
How to use a Frith Gift Card
Here is some information about using our Gift Cards we hope you'll find helpful.
How do you redeem a Frith Gift Card on the website?

The recipient can use their Frith Gift Card online, up to the value that has been placed on the card. On the reverse of the card there is a unique 16-character discount code. Enter this at checkout and the order balance will be automatically updated with the credit, up to the value of the Frith Gift Card. Look for the 'Gift Card or Discount code' box at the bottom of the Shopping Basket page for where to put the Frith Gift Card code.


What if my Gift Card doesn't cover my order value?

Any remaining balance to pay can be paid for using a debit or credit card in the normal way.

How long is a Frith Gift Card valid for?

If the recipient doesn't spend the full value of the Frith Gift Card, the remaining balance will be valid for 2 years from when they were bought. Our gift cards remain valid for 24 months after the last activity, which includes making a balance enquiry.

Can you "top up" a Frith Gift Card?

Currently it is not possible to "top up" the Frith Gift Card with additional credit.

What if an order paid with a Gift Card is returned for a refund?

If an order bought with the Frith Gift Card is returned and a refund is required, we will credit the value back onto the Frith Gift Card.

What if I have problems using the Frith Gift Card at checkout?

If you have any problems using a Frith Gift Card at checkout, please contact us for assistance.

Have further questions?

If you have any further questions about using a Frith Gift Card, please get in touch.
You might also like:
Take a look at our other nostalgic photo gifts and keepsakes.