Important Notice Regarding Delivery:
We have been advised by Royal Mail & Parcelforce that their delivery services will be disrupted by industrial action on the following dates: Friday 30th September 2022 and Saturday 1st October 2022 so this is going to disrupt the delivery of some orders.
Scottish Sheet Maps
Large-format, high-quality reproductions of Ordnance Survey's one-inch maps of Edinburgh enlarged to 1:50,000.
We have combined all Scottish maps available in sheet form into this section and as with other folded maps for England and Wales, all the Scottish maps available have the same name, reference number and coverage as the appropriate modern day Ordnance Survey Landranger®.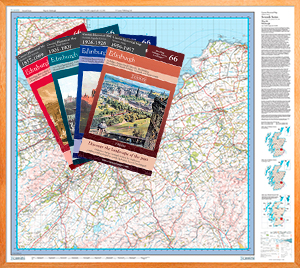 Also available is a 5-Map Boxed Set of Edinburgh Maps
This Boxed Set features:
Five large-format maps revealing Edinburgh's development between 1857 and 1957.
High-quality reproductions of Ordnance Survey's One-Inch Maps enlarged to 1:50,000.
Details street map of Edinburgh city centre at 1:10,560.