East Tytherton, Wiltshire
Sorry, we have no old photos of East Tytherton available currently.
You might like browse old photos of these nearby places.
Historic Maps of East Tytherton and the local area.

It seems we are remembering the first world war, my grandfather, Edgar Edwin Budge late of Bremhill Grove Farm in the village, was in the war, as far as I know he was in the Gloucesters. He served in France and was gassed, this affected him for the rest of his life at different times, he was one of the lucky ones and came back alive. Not long after he came home and took over Bremhill Grove Farm.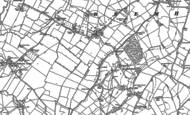 I was born in the village in 1934, my grandfather Edgar Edwin Budge had Bremhill Grove Farm, we lived in the cottage attached to the farmhouse. I and my sister Janet went to the local school, where Miss Tavener was my teacher, Miss Simper was the head. We used to go to the local Sunday School and events in the village (...Read full memory)