Historic Maps of Eridge Green and the local area.

I was married in 1957. My wife and I went looking for a dustbin. We went to the local Co-op.. Galvanised dustbins were 10 shillings. We had seen that they soon went rusty and had to be replaced. Also on sale was a rubber dustbin not plastic, made by Semtex a part of Dunlop. It was £7 a great deal of money, however we (...Read full memory)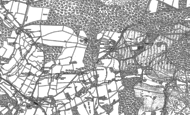 I remember going hop picking when I was a child. My Grandmother's cottage, one of the cottages called Holly Cottages, ran into the hop garden at the end of the fosel, so we were very lucky as we could go up to my grandmother's for a drink or to use the washroom whenever we wanted. If it rained we would go up to her cottage and wait for the rain to stop before heading back down to the hop garden.