Farnborough Memories
Read and share memories of Farnborough
My name is Marilyn and I lived in Rectory road, Farnborough and enjoyed some very happy days there before moving to Australia. I used to walk to Frimley green to visit my Aunty Rosemary and my Nanna. And in the other direction I used to walk to Salisbury Grove, Mytchitt to visit my other Nanna & Grandad. I loved my (...Read full memory)
well Farnborough how I knew it and now to this date. tumbledown dick has changed over the years it has now been changed to fast food area. many shops have gone rent prices gone up. bowling arena coming soon and new cinema. post office in queensmead now within Asda Iceland closed. princemead is expanding
Does any one have photo's of the old Farnborough police station in lynchford road. I cannot find it at all grateful for any help.
My mum is the current owner of the second house from left, number 2. We've lived in the house since 1992 and my sister was born there. The house is a real family home and although I've now moved away, I come home as much as I can. This is exactly how the house looked when we moved in, but over the years my (...Read full memory)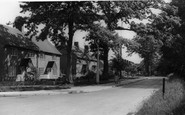 This shot faces north towards the "T" junction where Queens Road runs across the North end of Camp Road. The road running off to the right in the foreground is "High Street" and used to be the terminus for the Aldershot and District bus service no 3c which ran from High Street to the Hawley Lane estate via Sycamore Road. In (...Read full memory)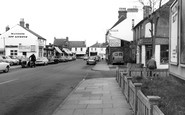 Unless I am mistaken, this shot is pointing due south in which the trees of Lynchford Road can be seen in the distance. The distant building on the left hand corner of the "T" junction at the end of Camp Road was "Boots cash chemists" and had by 1965 engulfed "Timothy Whites" which was situated next door to it on both Camp (...Read full memory)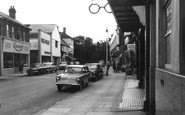 Does anyone remember the photographers in Lynchford Rd, Farnborough? I am guessing this must have been about 1940-1955. It may have been called County Studios Ltd.
When I left Farnborough in 1957, there was no ornamental pond, just woodland where us kids spent many happy hours playing. There was a small pond at the lower end of the field called Halls pond ( if I'm not mistaken) which has long gone. The area on which the school now stands was just rough land but a great place to (...Read full memory)