Historic Maps of Fawley and the local area.

We moved to Fawley in 1954 and I spent my last 2 years of Secondary School at Hardley. My brothers John and Trev also went there. I have vivid memories of lying in bed on a clear frosty night and seeing the reflection of the flare bouncing off next door's wall and of the constant roar of the refinery. Visitors (...Read full memory)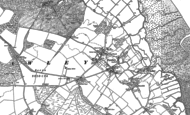 Hi, Thanks for your comments. On my birth certificate my address is 37 Gunsite Farm. We left when I was two in 1964. However, I'm fascinated by its history. My mum was a single parent and had a caravan next door to another sing parent! Next time I'm in Hythe I will visit Lime Kiln Lane. Hopefully I'll find the old site.