Browse our selection of old black and white photographs of Findochty, along with a selection of historic maps, local history books, and fascinating memories that our visitors have contributed. All our photos and maps are available to buy in a wide range of product formats, including framed prints, canvas prints, tea towels, mugs, jigsaws, tableware, cushion covers and as one photo in a customised calendar. Most of our local history books can have a personalised inscription added for FREE to the title page.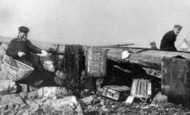 Historic Maps of Findochty and the local area.
I went to school in the village at the top of the brae, it's been knocked down and houses built. The harbour used to be full of local fishing boats, now its full of leisure boats. There used to be a station there but thats gone. Have very happy memories of the freedom we had growing up then and wandering over the golf (...Read full memory)
I grew up in Finechty and spent most of my childhood years down at the beach or climbing the Bin Hill or the Hill of Maud. The Hill of Maud was a good place to find seagulls' eggs.