Historic Maps of Fulbourn and the local area.

The triangle of grass towards the right side is the site of the war memorial. My father was the ground keeper for the council and part of his job was to keep this area tidy and he took a great pride in doing it. Opposite (out of sight on the left) is the area known as the conker trees. This was a favourite place for local kids to go searching for beautiful shiny conkers.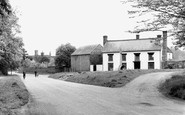 I moved into the Crownd and Thistle about 1941 aged 4 and I left village in 1960. Arthur Benstead was landlord for many years. He and Muriel his wife retired just across the road to a house left by Mr Knowles the postman. The Pattens lived in the thatched cottage on the right. Not much has changed, just a few infillings but just past the conifer was a stackyard and threshing engine yard.