Historic Maps of Fulbourn and the local area.

The boy on the bike is me (Eric Brigham), I lived at the post office with my parents who owned it (from memory) from 1967 to 1976. I was five years old in this picture. My father Gordon Brigham sold this postcard and others of the village. These were happy years for all of my family, such a nice village and people.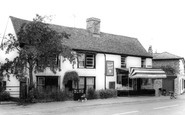 I moved into the Crownd and Thistle about 1941 aged 4 and I left village in 1960. Arthur Benstead was landlord for many years. He and Muriel his wife retired just across the road to a house left by Mr Knowles the postman. The Pattens lived in the thatched cottage on the right. Not much has changed, just a few infillings but just past the conifer was a stackyard and threshing engine yard.