Galmpton, Devon (near Paignton)
Historic Maps of Galmpton and the local area.

The Hall family lived scattered about Devon since the late 1600's, from what I can gather. In the 1850's to the 1890's they seemed to settle around Galmpton and Dittisham, later into Torquay and beyond. My GGG Grandfather William Hall, lived in Galmpton as did most of his family. His son, Captain William Hall, master (...Read full memory)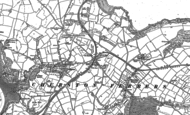 My Gt grandfather, William James Hawken was a certified schoolmaster at Galmpton between 1875-1880. His youngest child, Frances Marian, was born there on 10th October 1875. She went on to marry William Henry Birch, who was a son of the iconic Betsy Birch who founded the London omnibus transport system, after the early demise of her husband William in 1846.