Historic Maps of Glasgow and the local area.
In the Necropolis, Section Omega are a number of family lairs containing the following family lines. The Bell Family Lair has the following inscription, James Bell, Printer, 1806 to 1883( James Bell, my Great, great grandfather, was co founder of the famous Scottish printing house of Bell and Bain in (...Read full memory)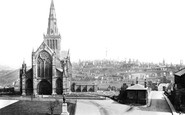 Recently I started an ancestor search on my parents, mother Jane Breen Dalzell, I have just discovered her great-grandparents were John Breen who married Jane Rose on the 4th November 1884 at the Grand Hotel. I would love to try and get more information on this, and maybe some pictures of the inside of the hotel. Also Jane Rose lived in Woodland Villa, Copland Road, I am trying to find too?