Golders Green, Greater London
Historic Maps of Golders Green and the local area.

I think that when your photographer set up his camera to take this scene he was not intending to take 'Ye Olde Grove Farme' shop, but the site of the public house 'The White Swan', (behind the tree) which, as far as I know is still there; or was when I was in the area a few years ago. On the far left of the picture you can see the pub sign. .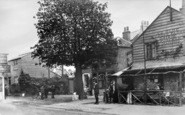 A really great Golders Green former establishment is (or was) the Prince Albert pub (later a Harvester Restaurant) which was situated at 290 Golders Green Road, London, NW11 9PY. It was a great jazz pub where people would meet and make friends. Now that has long gone, even though very (...Read full memory)