Great Somerford, Wiltshire
Historic Maps of Great Somerford and the local area.

I attended this school, on and off during the war years as my father Bill Morgan, was frequently posted around the country, and I would end up with my grandparents, the Eldridges who lived at West House. My teacher was a Mrs Greenaway, who lived a bit further along in the picture, and always put me at (...Read full memory)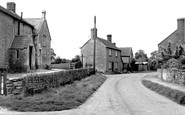 The house on the left used to be occupied by whom I called Auntie Eve and Uncle Jack.  I never knew their surnames, and they were not real relatives, but close family freinds. They had a daughter, Diana, with whom I fell base over apex in love. The house had very thick walls I remember and was so cool in summer. It was eventually pulled down and rebuilt to almost the same design.