Historic Maps of Guildford and the local area.

In 1938 Wood Street village enjoyed their first Annual Flower Show . My father, Arthur Stock was a driving force in promoting this event. he was later presented with a chiming clock inscribed "Presented to Mr. Arthur E. Stock, Hon Sec. Wood Street, Broad Street and District Horticultural Society, by the (...Read full memory)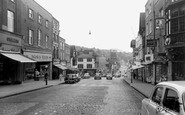 This is not so much a memory but a question of anyone out there about a house that my grandparents built in Guildford called "Haytor" in around 1925/1926. I would be fascinated to know if the house still stands and if anyone has any knowledge of it from either someone who purchased it after my grandparents moved after the second world war or at any time since then.