High Wycombe, Buckinghamshire
Historic Maps of High Wycombe and the local area.

My name is Geoffrey Gill and I was at St.Davids from 1958-1960.The headmistress were Miss Gooch (not Gouch) and Miss Ellis. Other teachers Mr.Davies,Mr.Hatt,Mr.Monaghan and Mr Whelan. Also a few mistresses Miss Collins,Miss Lacy and Mrs Frear. I was in Upper Third and then Lower Fourth. It was as many will remember a (...Read full memory)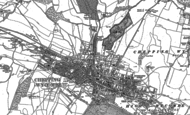 My name is Brian Efford, I was evacuated to Bolter End in 1940. I went to St Davids College from 1946 to 1956. I used to catch the 37 Thames Valley bus to High Wycombe station and walk across Amersham Hill road to St Davids.I now live in Adelaide Australia, I would love to hear from anyone who was at St Davids with me.