Holt Fleet, Hereford & Worcester
Historic Maps of Holt Fleet and the local area.

In 1954 my father and mother took over the Holt Fleet Hotel when I was 9 years old. The photographs on this site brings back memories of the two years that I spent as a child there. Steamers from Worcester would moor at the landing stage and passengers would disembark for afternoon tea in the grandly named ballroom. The (...Read full memory)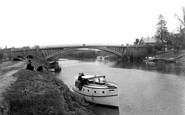 In 1997 we purchased a wooden bungalow near Holt Fleet Lock. We would like to hear any memories anyone may have about residents along the river. There are 9 wooden bungalows in all, we are at the third one. Today we had an unexpected visitor from a lady who owned it years ago and we let her go without really getting any info, HELP!!!