Historic Maps of Hoyland and the local area.

I am going back in history ,now, but reading the various comments brings back many fond memories. I was born in the top house on Milton Road and the view from our front window was identical to the first published, with the exception of the top part of the road, which started with Guest's Butchers, followed by Higgs Fish shop (in (...Read full memory)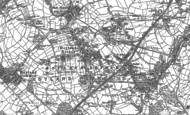 Lived at 21 George Street in 50's/60's until joining RN, 2 up, 2 down and shared loo at the bottom of the yard. Mates, Alan Varley, John Ward (became head?? Ecclesfield I think - taught history), Phil Hinton, Eddie/Tommy/Cathy Henderson, Gary Kerfoot (jewellers), Lawrence Pepper to name but a few. Good memories in poorer times but doors never locked and always welcome.