Huntingdon, Cambridgeshire
Historic Maps of Huntingdon and the local area.

Mr Wolfe owned the butchers shop in Huntingdon. I learnt years later that he spoke up for a member of our family when needed otherwise our lives may have been very different. He was such a generous man, I was about 8 when I would shop for my great Auntie and Mr Wolfe would give me some chocolate squares from a large bar (...Read full memory)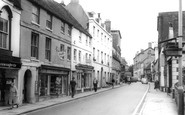 I used to spend Holidays at my Auntie Flo;s in Great Northern Street, Huntingdon in the 1950s early 1960s .Fond memories of going through back gate on to the common,standing in cow pats and collecting wild mushrooms. Remember there was a butchers in the High Street that made fantastic sausages and Dad would always buy loads and take some home to Sussex when we went home.