Jersey Marine, West Glamorgan
Historic Maps of Jersey Marine and the local area.

I also lived and was brought up in Jersey Marine. I Eric Holder lived at 26, St Margaret's Avenue with my mum and dad in the 1960, as Alan as mentioned use to go fishing a lot as canal was on doorstep. My best mates were Preston Ibbotson, Geoffrey Dodd, Desmon Amos, and Paul Huxtable but since leaving the village have lost touch. it would be nice to get in contact again for a catch up.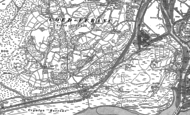 I was born and bred at No 8 St Margaret's Avenue, in the box room. I, Alan Huxtable, had a wonderful time as a child, as Rebbeca, has said, who is my niece (my sister's girl). We got up to a lot of mistchief. I loved to go fishing a lot. With Raymond Bird, my good mate, we went and did everything together, (...Read full memory)