Historic Maps of Kilby and the local area.

I was born in 1948 and my Grandma lived at Brook Bridge House in Kilby. I can remember hating living in Industrial Huddersfield but only because I could not wait to get to Kilby for my weeks holiday in the summer. There was a farm in the village, a guy called Neil lived there who was my age, very young! I used to go up there (...Read full memory)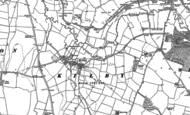 I was born in Kilby in 1943 in the house across from the Dog and Gun (I think it was called the Swan or maybe Black Swan?). When I was about a year or so old my parents moved to Foston (Great Peatling Lodge) and that is where I grew up and went to school in Countesthorpe and then on to Guthlaxton. Now living in the States and get homesick for Leicestershire.