Historic Maps of Kinmel Bay and the local area.
I remember this place during WW2. It was all closed up but we used to find a way in and were sometimes chased off. We called it the "White Cafe". All that was in the 1940s when I was only a young child. I went back in the early 1950s and it had been opened again but when I returned in about 2005 it had been pulled (...Read full memory)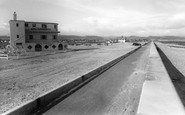 I loved visiting this place. My grandpa gave us change (25p) and I would go in and hunt for a treasure. It was very run down and I think it had a arcade but I wasn't allowed in there. This is the only photo evidence I have found on the place. It was knocked down due to it's state. Being built on sand caused subsidence. Shame it wasn't saved but understandable. Key piece of my memories!