Lewisham Memories
Read and share memories of Lewisham
In the early 1950s I worked at the Central Library, near St Mary's Church. My most vivid memories are the long working hours (difficult for the social life of a young girl) and having to manually count the 'issue' before we could go home. We were quite a happy group of young people but I do not know how many went (...Read full memory)
I was looking for pictures of Lewisham hospital about 1942, that was the year I got taken there, it get bombed not all of it. as this is the 70th year of NHS there must be one some where. We lived at Eliot Park the top of Lewisham Hill going up on to the Blackheath.
I was born in Lewisham Hospital and went to St Stephens school, left in 1959 after l did the 11 plus and we moved to Marden Kent, l think my Father knew he was sick and he died in June 1963. Our lives were very ordinary as were all others at that time, we were always at the Royal Naval association clubs, first at Belmont Hill (...Read full memory)
I found this site by chance as I have started to investigate my family history. My name is Andrew Porritt and whilst my Dad, Ron, lived in Greenhithe from birth in 1939 until moving to Gravesend in the 60s, his father was a Lewisham Porritt born in 1911 (George William who married Florence Johnson, from Gravesend, in the (...Read full memory)
I lived in Theodore Road and I was one of 11 children. the only vehicle in our road was a motorbike and sidecar. I can remember Cutlers hardware shop. On Hither Green Lane as well as the fish and chip shop I can't remember the owners name. We had a Spar shop on the corner where we could buy broken biscuits. Our doctor was Dr Clark (...Read full memory)
Number 40 Manor Lane was the family home of my Grandfather Edward Gardner's Family his father also Edward was we are told a Hatton Garden Jeweller. Edward Gardner it seems also owned properties around London with rents collected by his grandson Leslie Robert Gardner in the 1950-60's I would love to know more about my great grandfather's estates and his chequered marriage history ?
I remember going down into the basement at Chiesmans department store to meet Santa Claus, the picture looks as if it was taken from the roof of Chiesmans. This was around 66/68. Later I would take the 108B single decker bus from Catford to Bexleyheath, and would have to crowd into the bus with the St. Josephs Academy and St Teresa crowds.
My very first job was working in Lewisham for Fred Morris. He was a huge fellow that used to drink in the pub my mum and step father drank in just on the Lee high Road. He was a wonderful man who knew that mum was struggling to buy me the things I needed as I got older. He offered me a Saturday job working on his (...Read full memory)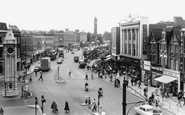 I was born in Catford and from an early age knew the area well, having relatives in the area to visit. Great grandmother lived in Wellmeadow road and we lived in Broadfield Road from the 1960's onwards. Walking from ours to Lee high road and anywhere in between. I lived in leybridge court in the (...Read full memory)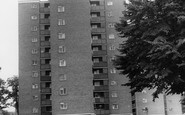 From Martin's description it sounds as if he lived in Hither Green Lane [as did I in the 50s and 60s] There were allotments behind the houses, an inevitable draw, since we were forbidden to go there, and would be shouted at and chased if seen. But up at 'our' end the grass was long and we were less likely to be spotted. (...Read full memory)