Leysdown-on-Sea Memories
Read and share memories of Leysdown-on-Sea
When I went to Leysdown in the 1960's there was a wonderful farm, we walked through the farm to get to the beach. It was lovely, for someone who lived in London, it was great. I saw cows up close, sheep up close, then we saw little chicks in the toilet block. I loved it back then. Went back to see the area a while ago, couldn't believe how run down it was. It was a mess! Such a pity!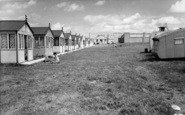 From 1950 to 1955 our family, spent whole summer holidays in our caravan at Leysdown on sea. Sometimes we travelled by steam train From Victoria to Sheerness and then bus to Leysdown. Once we used the car but the forty odd mile journey was not appreciated by our old Austin car and we had (...Read full memory)
I remember the family going on holiday to Leysdown. It poured with rain. We arrived by coach from London and I helped Dad carry the cases to a chalet on a camp site. My main memory was seeing signs stating that certain beaches were unsafe due to mines. Barbed wire kept you away from the beach.
I love Leysdown. In fact when our boys were little we used to take them there. They in turn go there now. My dad couldn't drive so our uncle used to have a caravan on Harts Farm and we used to stay there. They were wonderful times. I've just remembered a boy from Stroods family had two (...Read full memory)
I am from Brigend, South Wales, and for some reason my mother decided on our summer holidays to take us to the Isle of Sheppey, why at this time we would travel that (in those days) distance I do not know. I was 16 and my sister was 8. I remember staying outside a railway station overnight, sleeping in our old car, and (...Read full memory)
I spent the school holidays at my grandparents' bungalow 'Cartref' in Eastern Road just off the high street during the 1960s. They were Sid and Gert Burton and knew a lot of the local characters like Kipper Tom. I had wonderful times down there running wild around the Island and trying to win a few pence on the machines to buy chips. Happy memories.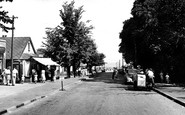 My Aunt Maggie lived at 1 Easton Road (Halfway down the High Street towards the beach, turn left at the newsagent into Easton Road). Sadly, it appears the road is no longer there according to maps. Surely the road featured in the photograph is called The Promenade? I was born there in 1945, and mum and I spent our summer (...Read full memory)