Historic Maps of Linton and the local area.

Throughout the first half of the 1950's I would spend every school holiday at Linton, with my maternal grandparents. Initially my mum would accompany me from our home in Trumpington to Drummer Street bus station, where she would place me in the care of the nan would meet me as I got off the bus at The Swan; (...Read full memory)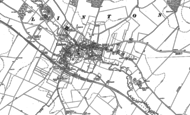 The photograph shows a shop and house which my grandmother ran between 1931 and 1952. It was then run by my uncle until it was sold as a house in 1979. My grandmother's name was Colville and she ran the shop as a general stores. Before the building was a shop it was a public house called the Axe and Compass and part of the building was a cobblers shop. The building itself goes back to 1599.