Historic Maps of London and the local area.

In 1961, I became an apprentice furrier to Brainin Bothers of New Bond Street. Brainin's owned a large store (I was told it was as big as Harrods) in Russia.They escaped the Communists and moved to Vienna, only to escape Hitler in 1938. Max and Leo were the brothers and Nat Saunders was the Master Furrier. Every monday we (...Read full memory)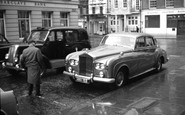 In the 1901 census my great-grandfather, Matthew Wise, was a night watchman close to the Bank of England at 6 Lothbury. I had found my grandmother as a child of 4 living with her mother Matilda and family in Hackney, but as initially I didn't know his first name I needed to carry out some detective work to find him! My grandmother married Sydney Lake in 1918.