Historic Maps of Looe and the local area.

This bridge is usually referred to as a seven arched bridge but looking at this 1888 photograph, there appears to be eight of them. The tunnel nearest the camera still exists and I recall how it once gave access to the old Regent Cinema which these days serves as an amusement arcade. Is it possible that (...Read full memory)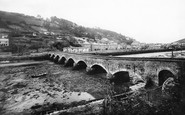 I remember the millpool being used as a boating lake and being able to hire rowing boats, canadian style canoes and sailing dinghys. Over the years the council reclaimed more and more of the millpool for use as a carpark and now there is only a fraction of it left and what was a nice big boating lake is now the main carpark for the town.