Historic Maps of Ludlow and the local area.

My great Grandfather John Johnston was the licensed victualler around 1896. I believe the pub changed its name to the Eagle and Child and is now a restaurant. Anyone have any connections to this family he had two daughters Elizabeth and Raine. He then moved to Julian Street. I believe he is buried at St Leonards Corve (...Read full memory)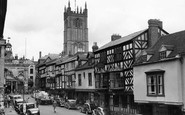 My great great grandfather John Cranstoun owned 15 Upper Broad Street from about 1850 to his death in 1890 and he is buried in St. Lawrence Church.