Browse our selection of old black and white photographs of Lynmouth, along with a selection of historic maps, local history books, and fascinating memories that our visitors have contributed. All our photos and maps are available to buy in a wide range of product formats, including framed prints, canvas prints, tea towels, mugs, jigsaws, tableware, cushion covers and as one photo in a customised calendar. Most of our local history books can have a personalised inscription added for FREE to the title page.
Historic Maps of Lynmouth and the local area.
My wife and I were staying in Middleham Cottages that night and escaped to the schoolhouse with other survivers. We escaped the village the next day, after a terrifying night, through the Lynmouth Hotel to the bridge by ladder across the water. I have painted the original Middleham Cottages from an old photo as it was before the disaster.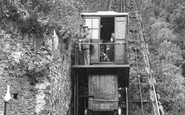 I took a party of friends for a day's outing to Lynmouth and Lynton and travelled on this wonderful cliff railway. It still looks exactly the same! It was a sunny but chilly May day and we started our day's fun with lunch and drinks in The Rising Sun - a lovely ancient inn on the sea front. This was followed (...Read full memory)