Market Drayton, Shropshire
Historic Maps of Market Drayton and the local area.

My father Leonard Barlow was born in the house on the left in 1921. He lived there with his mother Florence and family until he was conscripted into the Air Force at the beginning of the Second World War. I have traced members of the Barlow family living in the house for nearly a hundred years, going back to William (...Read full memory)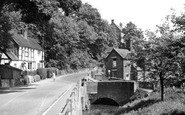 My great grandfather worked as a lock keeper at Tyrley at the time of my grandmother's birth in 1883.  My great grandfather named William Nixon married an Elizabeth Timmis whose father and brothers also worked as lock keepers at Tyrley and lived there.  My grandmother Eva Nixon married Henry Thacker and he too lived near Tyrley and worked as a 'lengthsman' on the canal.