We have no old photos of Nancledra available currently. You might like browse old photos of these nearby places.
Historic Maps of Nancledra and the local area.

Nancledra Days 1946 was the year that our family life in Nancledra began. What a relief it must have been to our parents, Peggy and Arthur Caddick to move into Windswept Cottage. The war years in London were over and they both felt a huge sense of freedom and hope for the future. Windswept cottage had been sadly (...Read full memory)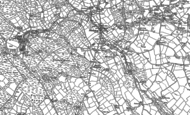 My great grandmother was born in Nancledra. Her father was a tin miner at Wheal Kitty and she was a tin dresser when she was older. She married a farm labourer and moved to St Erth. The family stories about this area are very vivid - picnics on Trencromb Hill, the strictness of the school masters and the pride of the Cornish people.