New Malden, Greater London
Historic Maps of New Malden and the local area.

Beside Woolworths this photograph captures my mother pushing a pram; I was 4 years old and can be seen walking beside her with my younger sister in the pram. New Malden has certainly changed over the decades with many well-known local shops no longer in existence. Timothy Whites, Cullens, Cannings & Woolworths are no longer a feature of the High Street.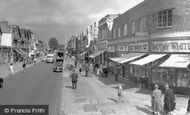 In 1954 I was nine. I was born in New Malden in 1945, and went to school there. My family name is Arbuckle, and the New Malden police station had my great-grandfathers in their uniforms in pics on the wall, and I was on the film when they laid the stone  foundations of the church on the corner of Westbury Road, because I (...Read full memory)