Historic Maps of Newquay and the local area.

Geoff Morris ocean belle Hubert morris ocean ranger Reg tribillcock winnie shark fishing with Hubert caught 6ft 6in blue 1958 have photo.spent 2weeks August 47-48 Winnie every day with Reg stayed at st Columbia minor by strongman baker delicious bread,also stayed with 3rd Morris brother on road to headland happy days lusty glaze with (...Read full memory)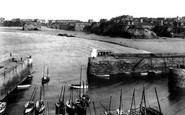 I worked here in the summer of 1968 as waitress in the restaurant (and afternoon teas by the pool!) Great memories, lots of fun with my friend Pat Wathey, working hard all day then dancing the night away and then having to climb in through a downstairs bedroom window after curfew!! A lovely hotel, my first taste of luxury, albeit not as a guest. Such a shame I cant revisit.