North Thoresby, Lincolnshire
Historic Maps of North Thoresby and the local area.

I remember North Thoresby primary school, with it's toilets across the yard. I went to the church St Helens and my Grandma is buried there. I used to go train spotting with my eldest brother Mick and I still keep in touch with a childhood friend who I have known all my life. She now lives in North Coates. There was (...Read full memory)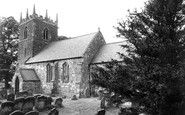 I was born in North Thoresby (Cleethorpes nursing home) in 1950 and spent nine years in the village living in Church Lane. I went to the village school and Sunday School and was also in the choir at the church. I used to help the local farmer G Robinson fetch his cows in for milking and help on the farm during harvest. The summers seemed so long in those days. In 1959 we moved to Scampton.