Historic Maps of Overton and the local area.

During the school holidays all the kids of the village would head to Bazil Point there in the corner by the James's Fishermans hut we would spend the day swimming messing about in the boats as the tide came in, making rope swings from the trees on the banks. As the tide came in we played (...Read full memory)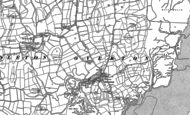 Growing up in Overton left me with great memories of my youth. One outstanding memory was November 5th near the Globe Hotel. As a lot of my friends were farmers there was no shortage of firewood, we would stack that bonfire up as high as we could. We had fireworks, homemade food at Cloudies and spuds on the bonfire. All the village attended it every year, what a childhood it was.