Patricroft, Greater Manchester
Historic Maps of Patricroft and the local area.

Hello, I'm trying to find information about my grandmother's grocers' shop. It was in Patricroft. Her name was Doris Beaver, but by the time she had the shop was married to Jonathan Hampson, who died in 1947. Does anyone remember the shop they had? She later took up with a man named James King (who I took as my grandfather) and left to run a similar shop in Todmorden around 1953.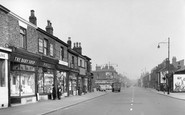 I am told my Grandparents had a chip shop and green grocers in Patricroft. Possibly in the 1930's and 40's. My grandfather was called joseph and his wife possibly Emily. They had two sons Harry and much later Joe.They moved to Cheadle Heath Stockport in the forties and then back to Eccles area, when I (...Read full memory)