Frith Website - Maintenance Notice
Please Note: Our website will be down for a major technical upgrade on Thursday 11th August 2022 from around 9pm BST. We anticipate it being back online within 4 hours.
Hexham & Haltwhistle Old Series Sheet Map

These maps are based on Britain's first national mapping project, Ordnance Survey's One-Inch ('Old Series') maps which were first published between 1805 and 1874. They have all been carefully scanned, digitally re-projected and enlarged to match the present-day Ordnance Survey Landranger® series. Each Old Series map is directly comparable with the corresponding Ordnance Survey Landranger® and uses the same sheet number and grid references, so enabling the past and the present to be compared with ease and accuracy. All the Old Series maps of England & Wales (123 in all) have now been published. Old Series maps have the same name, reference number and coverage as the appropriate modern day Ordnance Survey Landranger®.
Format:

Folded Sheet Map

Map title:

Hexham & Haltwhistle

Size:

Folded: 13.5cm x 22.5cm (approx. 5" x 9")
Opened: 100 cm x 89 cm (approx. 39" x 35")

Series:
Map year:

1863
Sheet No.:

87

Coverage:

43 x 24 miles

(Approximate)

Places:
Map ISBN:

978-1-84736-021-2

Delivery:

Printed to order: up to 7-10 working days


Express delivery is unavailable.
---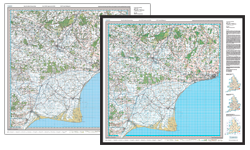 Covered in the Map
Acomb,
Allendale Town,
Allenheads,
Alston,
Bardon Mill,
Barrasford,
Beltingham,
Blanchland,
Branch End,
Bywell,
Carrshield,
Chollerford,
Chollerton,
Colwell,
Corbridge,
Cowshill,
Crawleyside,
Derwent Reservoir,
Dilston,
Edmondbyers,
Edmundbyers,
Garrigill,
Great Swinburne,
Gunnerton,
Halton,
Haltwhistle,
Haydon Bridge,
Hexham,
Housesteads,
Humshaugh,
Hunstanworth,
Killhope Moor,
Langley,
Nenthead,
Newbiggin,
Newbrough,
Redburn,
Riding Mill,
Rookhope,
Stocksfield,
Wall.
More Sheet Maps of the area