Wensleydale & Upper Wharfedale Old Series Sheet Map

These maps are based on Britain's first national mapping project, Ordnance Survey's One-Inch ('Old Series') maps which were first published between 1805 and 1874. They have all been carefully scanned, digitally re-projected and enlarged to match the present-day Ordnance Survey Landranger® series. Each Old Series map is directly comparable with the corresponding Ordnance Survey Landranger® and uses the same sheet number and grid references, so enabling the past and the present to be compared with ease and accuracy. All the Old Series maps of England & Wales (123 in all) have now been published. Old Series maps have the same name, reference number and coverage as the appropriate modern day Ordnance Survey Landranger®.
Format:

Folded Sheet Map

Map title:

Wensleydale & Upper Wharfedale

Size:

Folded: 13.5cm x 22.5cm (approx. 5" x 9")
Opened: 100 cm x 89 cm (approx. 39" x 35")

Series:
Map year:

1852
Sheet No.:

98

Coverage:

42 x 24 miles

(Approximate)

Places:
Map ISBN:

978-1-84736-000-7

Delivery:

Printed to order: up to 7-10 working days


Express delivery is unavailable.
---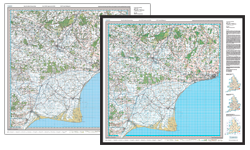 Covered in the Map
Appletreewick,
Arncliffe,
Askrigg,
Austwick,
Aysgarth,
Bainbridge,
Buckden,
Burnsall,
Burtersett,
Carperby,
Castle Bolton,
Chapel-le-Dale,
Clapham,
Conistone,
Countersett,
Cracoe,
Dent,
Feetham,
Fremington,
Garsdale,
Gayle,
Giggleswick,
Grassington,
Grinton,
Gunnerside,
Hanlith,
Hardraw,
Hawes,
Healaugh,
Hebden,
High Bentham,
Horton in Ribblesdale,
Hubberholme,
Ingleton,
Kettlewell,
Kilnsey,
Langcliffe,
Linton,
Low Row,
Malham,
Millthrop,
Muker,
Newbiggin,
Newbiggin,
Redmire,
Reeth,
Ribblehead,
Sedbusk,
Semer Water,
Settle,
Stackhouse,
Stainforth,
Stalling Busk,
Starbotton,
Swaledale,
Thornton in Lonsdale,
Thornton Rust,
Threshfield,
Thwaite,
West Burton,
Wharfe,
Worton,
Yockenthwaite.