Redditch, Hereford & Worcester
Historic Maps of Redditch and the local area.

I remember playing down the lane leading to 3rd.pitch with my friends the 3 rose sisters,their father was the pharmistis at Timothy,whites and Taylor's in the main street,1957.I went off to lodge farm sec.school,but I think they went to bridley moor.redditch was a very nice town. I was Catherine Allen and my brother (...Read full memory)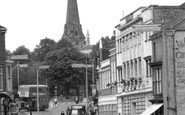 Like Wayne,I also transferred from St.Stephens to Lodge Farm in 1957.I loved my time there,my Father was Chief Clarke in the T.A. and we lived in a lovely house attached to the Drill Hall in Easemore Road.my name then was Catherine Allen I also remember enjoying a strawberry milk shake in De Greys cafe on Saturday morning.