Historic Maps of Roadwater and the local area.

In August 1939 I came to Roadwater from Kingston, Surrey to stay with my grandparents for my summer school holidays. My grandmother's name was Eva Morse and my grandfather's Rupert Morse.  At that time they lived in a house that was opposite the church at the lower end of the village. This was my great-grandfather's (...Read full memory)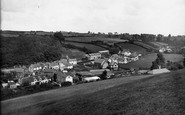 During the war my brother, my three cousins and myself stayed on a farm, I think it was in Roadwater or Watchett, it was called Stamborough or something like that. My Great Aunt and Uncle Tom and Cassie Carpenter lived in a cottage further down 'the line'. Is there anybody there now who would know where I mean?