Historic Maps of Rotherham and the local area.

Fond memories of growing up on Old Field Rd Being one of the Fletchers ( Beverley) mum Edna Dad Les My Brother Bry sisters Ros Julie and Jo. Our good friends neighbours the Thompsons Lawton's Cain's, Walsh , Clarke, Hendricks, Jespers Tun stall Whites Hoods many more. Happier (...Read full memory)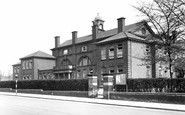 I attended from 1972 1976 Initially all Girls then became a comprehensive school during the latter years I remember some great girls,Lindsey Hathaway Helen Frith Kim Hessel Diane Douglas Julie Hutton Evelyn Lilly and many more I hope they are all well and should anyone from the school would care to get in touch I would be thrilled to hear from them.