Salford, Greater Manchester
Historic Maps of Salford and the local area.

I was born in 1946 and went to live on Sutton Flats when I was 5. We lived there in various flats until I was 21! By then, each block was known by a name rather than just a number and we lived at the top of Littlegreen House, though many people called it Little Greenhouse! When I was 11 I went to (...Read full memory)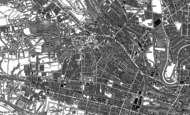 I remember them well, we lived in Easton House after being moved from Melbourne Street, Ordsall. I delivered the papers up and down all those stairs for half of the blocks every day before school and then after school. My teenage years were spent at the Lyndale trying to be grown up and I had my first shandy in the Hair and Hounds.