Historic Maps of Saltaire and the local area.

I was Julie Denny (now Julie Hale, I got married in 1998 to Alan Hale). I lived at 57 Albert Road for 30 years + with my mum, dad Roy and Betty and my brother Paul  I remember the street party, it was great. We had tables from the top of the road right down to the bottom, we had fancy dress, party games and a good old sing song, it was  great. Where has all that fun gone nowadays.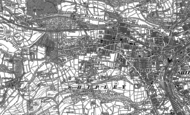 My husband's father Frank Baker, worked at Starting Post Farm on All Alone Road near Idle. His cousin Albert Drew, was in the fields with him when a German air plane came down. Does anyone have any memories of this and know the time of day when it happened? My husband's father later joined the Army and was killed in 1944, my husband then came back to South Yorkshire with his mum.