Browse our selection of old black and white photographs of Sandilands, along with a selection of historic maps, local history books, and fascinating memories that our visitors have contributed. All our photos and maps are available to buy in a wide range of product formats, including framed prints, canvas prints, tea towels, mugs, jigsaws, tableware, cushion covers and as one photo in a customised calendar. Most of our local history books can have a personalised inscription added for FREE to the title page.
Historic Maps of Sandilands and the local area.

Every July, the houses with tennis courts in the garden hosted a tournament (don't know who organised it). I remember turning up one year full of enthusiasm, only to be thoroughly beaten by a chap who had been playing in a tournament in Vienna the year before! Enjoyed the dance afterwards at the Grange and Links though.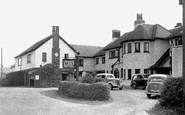 My late father used to rent an apartment in a large house opposite the 'pullover' where we would stay for some 2-3 weeks each summer from about 1949-1955. I remember that the lady who owned the house had a large black Labrador who used to love playing on the beach with me and he would dig very large holes in the (...Read full memory)