Historic Maps of Seal and the local area.

My stepfather, Mr John Few, was at Oak Bank between 1942 and 1947. He was a teenager whose father was the head gardener billeted at the lodge alongside the golf course. John and his older brother Eric worked at the school. John's jobs included lighting fires and boilers in the hall, nursing quarters, classrooms, and dining (...Read full memory)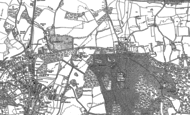 My ancestors the Corkes apparently loaned the money to build the workhouse. One was also the local Surveyor, builder etc. They are buried in Seal Churchyard. I have a large family tree of this family. My maternal grandmother`s father was a local dairy farmer and she used to tell us stories of driving cattle back to Seal from Sevenoaks Market.They also had a dairy in Sevenoaks somewhere..