Coronavirus: As an on-line business operating in a rural area we are open! Click here for more information
Coronavirus:
Thank you for the amazing support we have received from our customers during the last few months. Our office and factory are based in a rural area which has made it practical for us to remain open for business.
We are still able to despatch most of our products, however, coasters and placemats are still not available but we hope to offer these again soon.
Our despatch times are normal, but Royal Mail & Parcelforce delivery times are varying depending on location - some parcels arrive next day and others are taking up to 10 days, which we have no control over.
We will update this message as anything changes.
Places
5 places found.
Those places high-lighted have photos. All locations may have maps, books and memories.
Books
Sorry, no books were found that related to your search.
Memories
24 memories found. Showing results 1 to 10.
Chadwell Heath 1940/1959
I was born in Birchdale gardens behind the Cinema and bus terminal. Moved to Chadwell Heath Lane 1941 when bombed out and then to 49 Hall Road on corner with Chadwell Heath Lane. Attended Chadwell Primary School 1945/1951. ...Read more
A memory of Chadwell Heath by
Top Of Valence Avenue
I lived at the top of Valence Avenue, which was 1.1/4 miles long. I was nearly into Chadwell Heath, but my address was Dagenham (and proud of it!) . I used to go to Lymington Road School and we went to Valence Swimming Baths ...Read more
A memory of Dagenham in 1943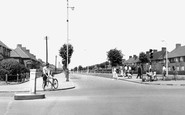 Stratford, E15 1936 1940
I was born in Queen Mary's Hospital in 1936. My parents lived in Glenavon Road. My sister was 3 years older than me and attended primary school in Water Lane in 1938/9/40. I can remember going shopping in Boardman's with my ...Read more
A memory of West Ham
My Memorys
I lived in the old mill house in Edward road chadwell heath went to pic on sat morning then ballroom dancing up staire with dot taylor and tommy alcote.
A memory of Chadwell Heath by
Reynolds Bros Grocers
My mother worked for Reynolds Bros. Grocers in Chadwell Heath just before going to live in New Zealand. This was in 1950. Her name was Connie Fynn, nee Cocklin, of Becontree Av.
A memory of Chadwell Heath by
Down The Lane
Lived off Chadwell Heath Lane/Hall Road. Grandad ran the green grocers on the corner of Reynolds Ave and Chadwell Heath Lane. It was family run; me, father, mum and oldest brother....great memories as a child. The paper shop next ...Read more
A memory of Chadwell Heath in 1967
Old Shops In Chadwell Heath
I have lived in Chadwell Heath for many years now, and I seem to recall a Greengrocers in the High Road which was owned by Barry Kitchener the Millwall footballer, am I correct or did I imagine it. It has changed so much now but not always for the better unfortunately. Mary H
A memory of Chadwell Heath
A W Sibley Butchers
This butchers shop seen to the left was owned by my family and was next to Woolworths. We had other shops in Chadwell Heath, Ilford etc. as well as Frank's Farm in Upminster. Behind the shop was a slaughter house and a large ...Read more
A memory of Hornchurch in 1965 by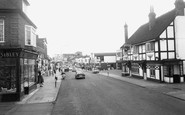 Memories Of Marks Gate
I lived on Marks Gate from 1954-1972 when I got married. We lived in a two bedroomed flat in Arneways Avenue. I went to the Oaks school in Collier Row, John Preston school on Marks Gate and The Warren school, Chadwell Heath. I ...Read more
A memory of Marks Gate by
The Grange Cinema
As I recall, there were four cinemas in Dagenham; The Grange (flea pit) Chequers junction, The Gaumont Heathway, The Odeon Becontree Heath & The Princess, New Road which always seem to show `X` rated horror films and later ...Read more
A memory of Dagenham in 1959 by