Browse our selection of old black and white photographs of Sizewell, along with a selection of historic maps, local history books, and fascinating memories that our visitors have contributed. All our photos and maps are available to buy in a wide range of product formats, including framed prints, canvas prints, tea towels, mugs, jigsaws, tableware, cushion covers and as one photo in a customised calendar. Most of our local history books can have a personalised inscription added for FREE to the title page.
Historic Maps of Sizewell and the local area.

I remember Fred and Jack Fryer, and a son if I remember correctly who went in the navy. I would often wait on the beach at night beside their lantern which would guide them back to shore after an evenings fishing. Did Jack move to Felixstowe? I stayed with my grandparents in Hill House, their name was Gunthorpe. I (...Read full memory)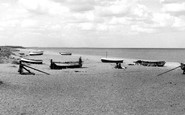 My father was born in 1916 at 88 Sizewell Road Leiston, and lived there with his parents Marmaduke and Kathleen and brother Alec. He was apprenticed as a printer in Leiston I believe. His grandmother lived in Sizewell. I would love to hear from anybody who has any memories of these people. Thank you.