Sowerby, Yorkshire (near Thirsk)
Historic Maps of Sowerby and the local area.

Sowerby holds many happy memories for me. I was born there in April 1935 and left for pastures new in 1957. Over the years I have made many visits back to my homeland from Australia. The village has changed very little apart from looking more prosperous than in my childhood, and alas most of the people I once knew have died or moved on.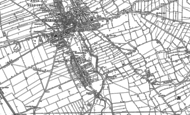 I met my wife who lived in huberton a little village about a mile up the lane from sowerby, back in 1970 . We married and lived at Dean lane paying 10/6d a week for a back to back one up and one down where my son came into the world . I worked in the carpet mill of humphrys down on the river in sowerby bridge and have such warm (...Read full memory)