Historic Maps of St Austell and the local area.

I can remember going to the top of kings hill in Hengoed , up some steps and into the stute. It seemed a massive building to me as a child. I can still remember the smell of it. And the fact that children were only allowed in a certain part to buy sweets. Has anyone got any photos of the stute ,or memories of it. It was pulled down ,I think in the 1960,s. Kim price( Carey)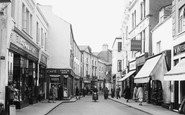 I remember my first concert there. It was fantastic - Adam and the Ants. I was 14! It was a long time ago. My mum still lives in St. Austell but I live in Plymouth. Wonderful memories from my younger days as I'm now 44. My name back then was Maria Searle and I went to Poltair, I wonder if anyone knows me?