Historic Maps of St Austell and the local area.

The Rivera!! Once a week after school in 1964- 65, a group of us (mostly 6th-formers from the Grammar School, which was co-ed by that time) used to gather upstairs in the Rivera Restaurant (on the right in the photo) and order tea and buttered teacakes - all we could afford - and we'd make them (...Read full memory)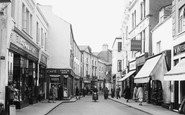 I remember my first concert there. It was fantastic - Adam and the Ants. I was 14! It was a long time ago. My mum still lives in St. Austell but I live in Plymouth. Wonderful memories from my younger days as I'm now 44. My name back then was Maria Searle and I went to Poltair, I wonder if anyone knows me?