St Ives Memories
Read and share memories of St Ives
In 1969 we visited St Ives in Cornwall for our annual summer holidays but on this occasion due to it being a last minute decision we had not booked our accommodation. Travelling from Bedfordshire in those days was considered by most to be a bit of a trek and it was usual to stop-over but we chose to plough- on arriving (...Read full memory)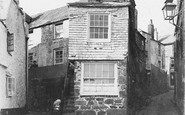 The alleyway to the left was known as "Pudding Bag Lane" (only one way in and one way out!). The correct name was Capel Court however. The area ( to the everlasting shame of the town council), was swept away in the 1930s for 'redevelopment'. The area it occupied is now a car park at the rear on The Sloop Inn.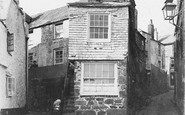 I come from Camborne so we went to Porthminster all summer as a child. Between 1966 and 1972 I went with the Sunday School to the tea treats at Porthminster Beach, our families all came by train and rented the beach tents and deck chairs for the day, and the best part of all was the tea treat bun, the bottle of pop, the Sunday School sing song and scavenger hunts.
I found an old postcard of Porthminster Beach recently in a charity shop in Devon. I was intrigued by the message, it was addressed to a Miss Johnson at Pedn Olva House and something tragic had obviously happened as it talked of being 'verily verily sad' and 'great sorrow'. I would love to know more, or even to pass it on to the family.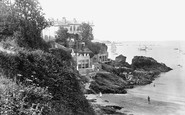 My great-grandfather had a gift shop, number 1 The Wharf, St Ives, and an artist studio.
St, Ives born and bred, my family had lived in a couple of houses upalong before moving to 22 The Digey ( the middle door ) sometime in 1967. I remember having my 6th birthday there.  At the time there was a credit squeeze on and my parents could only afford a tiny downalong cottage even though they had sold a large (...Read full memory)