Historic Maps of Stopsley and the local area.

I used to live in Stopsley with my family. We lived in Swiftsgreen Road. I have just been back but it has not changed a great deal, the village is larger and we did not have time to have a walk round but it was nice to see where we had lived. I was named Johnstone in those days and we left in 1962 but we have good memories of (...Read full memory)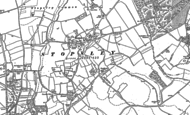 I used to sit and wait for the Number 11 bus, if I remember correctly on the bench facing the post office, and I am ashamed to say I never really took in the names on the war memorial or realized what they had done for us all. I now live in Holland and the next time I am in Stopsley for a visit I will look again at the names and remember.