Historic Maps of Thornbury and the local area.

I lived as a child in Down Road, Alveston (at Barton Cottage - now demolished) from 1959 to 1964 and have great memories of Thornbury. Having no car in those days the family would march down the hill into Thornbury to Mass on Sunday, occasionally hitching a lift with a fellow parishioner, possibly a Mr Sheppard who (...Read full memory)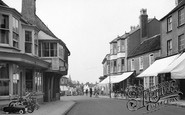 Paul Martin is right saying the premises were Mogg's toy shop. He owned the shop, was the local cubmaster and I am almost certain he was the local Father Christmas. Obliquely opposite was a small grocer and I was once given 6d. to go into the shop to buy 2 bottles of Heinz salad cream by a lady who was entertaining at home and had already exceeded her ration!